26
May
Féministes de tous les pays, Unissons-nous : Pétition Internationale et appel à soutien financier !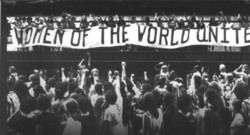 Parce que nous sommes plus nombreuses qu'eux,
Parce qu'il y en a assez de cette domination de classe comme du patriarcat,
Parce qu'il y en assez de la domination masculine, du machisme institutionnel, du sexisme à tous les échelons de notre société - et en cela l'affaire DSK aura été un bon révélateur sur l'état de notre société en ce début de XXIème siècle - les Féministes Françaises et Américaines se sont unies pour lancer cette pétition internationale :
Feminists Demand Freedom from Sexual Assault and Harassment
We agree:
Rape is always about power and domination; it is sexualized violence.

Rape and sexual harassment of women are pervasive at all strata of society and in all corners of the globe. Women will never be fully free and able to enjoy equality with men until this ends. As feminists, we see the arrest of former International Monetary Fund director Dominique Strauss-Kahn on sexual assault charges as an opportunity to increase public awareness and as a wake-up call to renew action against sexual violence, not only in the US where his arrest occurred and in France, where media and many public figures are portraying him as the victim, but around the world.

We join French feminists in saying that just as Strauss-Kahn is innocent until proven guilty, his accuser must also be respected and believed to be credible unless proven false. We commend her employer, Sofitel, and the action of the NYC Police for taking her complaint seriously. We call for feminists around the world to join with her union (New York Hotel and Motel Trades Council Local 6) in collecting funds for legal and daily expenses, as her work is now curbed and life circumstances vastly altered.
Contributions can be sent to Judson Memorial Church (attention Women's Fund) 55 Washington Square South, New York, NY 10012-1018.

We also share French feminist indignation at the deliberate and opportunistic confusion of seduction and sexual violence, from Strauss-Kahn's declaration that he "loves women," to the journalists and politicians who rally behind this "Great Seducer." It is outrageous that the allegation of attempted rape during the course of a housekeeper's work day raises issues about any woman's life story and sexual history. And portraying powerful Strauss-Kahn as "too civilized" to commit a violent crime plays upon colonial and racist stereotypes vis-à-vis an African immigrant woman.

We adamantly oppose all harassment, sexual violence and rape, and we know that when there is a large discrepancy between the power, the wealth and racial hierarchy of the parties involved, justice is even harder to come by. All rapists and harassers believe they are entitled, and often when they are part of the power elite they assume that influence will outweigh the legal protection and freedom from coercion all women should enjoy. Feminists around the world demand that justice be done.

Women of all countries, unite!
-----------------------------------------------

Les féministes exigent que justice soit faite

Le viol est toujours une question de pouvoir et de domination. C'est une violence sexuée. Le viol et le harcèlement sexuel envers les femmes sont omniprésents dans toutes les couches sociales et dans tous les pays. Les femmes ne seront jamais véritablement libres et en mesure d'accéder à l'égalité avec les hommes aussi longtemps que cette situation durera. Pour nous, en tant que féministes, l'arrestation de l'ancien directeur du Fonds monétaire international Dominique Strauss-Kahn, accusé d'agression sexuelle, est l'occasion d'accroître la prise de conscience du public et d'attirer l'attention sur la nécessité de relancer la lutte contre la violence sexuelle, non seulement aux Etats-Unis, où il a été arrêté, et en France, où les médias et nombre de personnalités en vue le dépeignent comme la victime, mais également dans le monde entier.

Nous sommes d'accord avec les féministes françaises pour dire ceci : tout comme Strauss-Kahn doit être présumé innocent tant que sa culpabilité n'a pas été établie, son accusatrice a droit au respect et sa parole ne doit pas être mise en doute jusqu'à preuve du contraire. Nous nous réjouissons que son employeur, Sofitel, et la police de la ville de New York aient pris sa plainte au sérieux et agi en conséquence. Nous appelons les féministes du monde entier à contribuer aux initiatives prises par son syndicat (New York Hotel and Motel Trades Council) pour recueillir des fonds destinés à couvrir les dépenses juridiques et quotidiennes, car son travail est désormais perturbé et sa vie de tous les jours profondément bouleversée.
Les dons à l'intention de la victime peuvent être envoyés à : Judson Memorial Church — attention Women's Fund — 55 Washington Square South, New York, NY 10012-1018.

Nous partageons aussi l'indignation des féministes françaises face à la confusion opportuniste et délibérément entretenue entre séduction et violence sexuelle, depuis Strauss-Kahn, disant qu'il « aime les femmes », jusqu'aux journalistes et responsables politiques qui serrent les rangs derrière ce « grand séducteur ». Il est choquant que l'allégation de tentative de viol d'une femme de ménage pendant ses heures de travail donne lieu à la mise en cause de la vie et du passé sexuel de cette personne. L'image de l'homme haut placé qu'est Strauss-Kahn « trop civilisé » pour commettre un crime violent joue sur des stéréotypes colonialistes et racistes vis-à-vis d'une immigrée africaine.

Nous sommes résolument opposées à toutes les formes de harcèlement, de violence sexuelle et de viol, et nous savons que lorsqu'il existe une grande disparité de pouvoir, de richesse et de hiérarchie raciale entre les parties en présence, la justice a encore plus de mal à s'affirmer. Tous les violeurs et agresseurs sont convaincus de leur bon droit, et souvent ceux qui font partie de l'élite du pouvoir partent du principe que leur influence l'emportera sur la protection juridique et la liberté de disposer de soi dont toutes les femmes doivent bénéficier. Les féministes du monde entier exigent que justice soit faite.

Femmes de tous les pays, unissons nous.
Pour signer cette pétition, Cliquer ICI !
Pour signer, si vos leçons d'anglais sont loin... quelques précisions :

- First name = Prénom
- Last name = Nom
- Zip code = code postal
- Cliquez sur 'inside the US' ou 'outside the US' pour choisir votre pays dans la liste.
- Si vous ne voulez pas que votre signature figure sur internet, alors décochez la case "display my signature publicly". Merci à Emelire qui ne m'en voudra pas d'avoir emprunté la caricature qu'elle a dessinée.

This statement was initiated by the following feminists:
Cette déclaration a été amorcée par les féministes suivantes :


Bettina Aptheker, CA, U.S.
Lori Askeland, OH, U.S.
Eleanor J. Bader, NY, U.S.
Rosalyn Baxandall, NY, U.S.
Halina Bendkowski, Berlin, Germany
Saliha Boussédra, Toulouse, France
Eileen Boris, CA, U.S.
Ariel Dougherty, NM, U.S.
Roxanne Dunbar-Ortiz, CA, U.S.
Judith Ezekiel, Toulouse, France
Francisca de Haan, Amsterdam, the Netherlands
Myrna Hill, CA, U.S.
Merle Hoffman, NY, U.S.
Barrie Karp, NY, U.S.
Bea Kreloff, NY, U.S.
Tobe Levin von Gleichen, Frankfurt, Germany
Ilana Lowy, Paris France
Fran Luck, NY, U.S.
Claire G. Moses, VA, U.S.
Marge Piercy, MA, U.S.
Fanette Pollack, NY, U.S.
Marilyn Porter, Newfoundland, Canada
Deborah Rosenfelt, MD, US
Kathryn Scarbrough, NJ, U.S.
Donna Schaper, NY, U.S.
Lise Vogel, NY, U.S.
Suzanna Walters, IN, U.S.
Naomi Weisstein, NY, U.S.
Barbara Winslow, NY, U.S.
Laura X, CA, U.S.

Also signed by
Carol Hanisch, NY, U.S.
Jane Barry, PA, U.S.
Nancy Krieger, MA, U.S.
Vicki Nichols, VA, U.S.
Mary Carlson, CA, U.S.
Shailja Patel, Nairobi, Kenya
Elaine Shinbrot, NJ, U.S.
Barbara Rylko-Bauer, MI, U.S.
Amanda Frisken, NY, U.S.
Dabney Evans, GA, U.S.
Trude Bennett, NC, U.S.
Amy Kessleman , NY, U.S.
Therese McGinn, NY, U.S.
Carolina Neiva Viancello, Brussels, Belgium
Comfort Momoh, London, UK
Naana Otoo-Otortoy, London, UK
Abebah Tekleab, Stockholm, Sweden
Khady Koita, Tervuren, Belgium
Ambara Hashi Nur, Aarhus, Denmark
Etenesh Hadis, Vienna, Austria
Batulo Essek, Helsinki, Finland
Julie Kakiese, Brussels, Belgium
Fana Habteab, Uppsala, Sweden
Maretta Short, NJ, USA
Martha Vicinus, MA, USA
Rosalind Petchesky, NY, U.S.
Lauri Andress, TX, U.S
Susan Reverby, MA, U.S.
Leslie Dubbin, CA, U.S.
Ellen Ross, NY, U.S.
Temma Kaplan, NY, U.S.
Troy Shinbrot, NJ, U.S.
Roberta Salper, MA, U.S.
Stephanie Gilmore, DE, U.S.
Susan Brownmiller, NY, U.S.
Laura Anker, NY, U.S.
Kathleen Slaon, CT, U.S.
Chris Coombe, MI, US
Abby Lippman, Quebec, Canada
Linda Stein, NY, U.S.
Rosemary Szegda, NJ, U.S.
Estelle Regolsky, MA, U.S.
Brigitte Bramie, Paris France
Guylène Deasy, NC, U.S.
Monique Dental, Paris, France.
Alice Ngyone Endamne, CA, U.S.
Jules Falquet, Paris, France
Suzy Rojtman, Paris, France
Maya Surduts, Paris, France.
Anne-Marie Viossat, Paris, France
Rebecca Whisnant, OH, US
Bronwyn Winter, Sydney Australia
Estelle B. Freedman, CA, U.S.
Anne-Emanuelle Birn, Ontario, Canada
Juliet Ash, London, England
Barbara Garson, NY, U.S.
Laura Flanders, NY, U.S.
Marilyn Zivian, CA, U.S.
Nísia Trindade Lima, Rio de Janeiro, Brasil
Heather Booth, Washington, DC, U.S.
Eve Ensler, Paris, France
Leila J. Rupp, CA, U.S.
Kathryn Kish Sklar, NY, U.S.
Joan Ditzion, MA, U.S.
Sonia Fuentes, FL, U.S.
Chandra L. Ford, CA, U.S.
Aida Hurtado, CA, U.S.
Alison Williams, NJ, U.S.
Elizabeth Pleck, IL, U.S.
Shelley Fisher Fishkin CA, U.S.
Leslie J. Reagan, IL, U.S.
Leisa D. Meyer, VA, U.S.
Katha Pollitt, NY, U.S.
Yanar Mohammed, Baghdad, Iraq
Sonia Jaffe Robbins, NY, U.S.
Alia Shinbrough, NJ, U.S.
JoAnn Jaffe, Saskatchewan, CA
Dee Appleby, SC, U.S.
William Scarbrough III, SC, U.S.
Teresa Scarbrough, CA, U.S.
Patricia Rackowski, Boston, MA
Nalini Visvanathan, Washington, DC
Barbara M. Sow, Dakar Senegal
Beth E. Rivin, Seattle, Washington, USA
Ana María Carrillo Farga, Mexico
Alison Katz, Geneva, Switzerland
Megan McLaughlin, IL, U.S.
Fatou Sow, Dakar Senegal
Dula F. Pacquiao, NJ, U.S.
Inti Maria Tidball-Binz, Bs As, Argentina
Emily May, NY, U.S.
Evelyn Torton Beck, Washington, DC USA
Dana Rabin, IL, U.S.
Sarah E. Huertas, San Juan, Puerto Rico
Jesse Lemisch, NY, U.S.
Joséphine Soumah, France
Claire Bond Potter, CT U.S.
Carina Ray, NJ, U.S.
Deborah Rossum, IA, U.S.
Maria E. Cotera, MI, U.S.
Barbara Molony, CA, U.S.
Kristy Rawson, MI, U.S.
Antoinette Burton, IL, U.S.
Mary Nolan, NY, U.S.
Ruth Rosen, CA, U.S.
Julie Laut, IL, U.S.
Erik McDuffie, IL, U.S.
Yxta Maya Murray, CA, U.S.
Jo Salas, NY, U.S.
Barbara Leon, CA, U.S.
Edwina Barvosa, CA, U.S.
Maureen H. Williams, CA, U,S,
Bob Weil, CA, U.S.
Anica Leon-Weil, CA, U.S.
Finn Mackay, Bristol, England
Regan Kramer, Paris, France
Dominique Tripet, Orléans, France
Sandrine Goldschmidt, Paris, France
Didier Epsztajn, France
B. Chical, Paris, France
C. Steinmuller, Paris, France
Emmanuelle Cesari,Paris, France
Rhania Azzouz, Montreuil-Sous-Bois, France
Nelly Trumel, Paris, France
Frédérique Strzalka.
Flores Espinola, Artemisa, Paris, France.
Claire Desaint, Varades, France
Anne Mogensen, Paris, France
Cécile Vermot, Paris, France
Marie- Claire Lotrian, France
Françoise Leclerc, Montrouge, France
Khursheed Wadia, Birmingham, Uk.
Danielle Michel-Chich, France
Barbara Wolman, Toulouse, France
Anne Larue, Paris, France
Suzy Candido,Toulouse, France
Marie Frantz Joachim, Port Au Prince, Haïti
Sylvie Duverger, Paris, France
Dominique Pineau, France
Christiane Marty, France
Nathalie Harran, Paris, France
Michèle Loup,Paris, France
Malka Marcovich Paris, France
Emmanuelle Piet, Bondy, France
Marie-France Casalis, Fresnes, France
Françoise Bellot, Fresnes, France
Lena Lavinas, Rio De Janeiro, Brésil.
Lourdes Bandeira, Brasília - Brésil
Martine Noël, Paris, France
Jamileh Nedai, France
Trine Korsvik, Oslo, Norvège
Saadia Majdi-Jollivet, Paris, France
Marie Josée Pepin, Paris, France
Françoise Leclerc, France
Natacha Henry, Paris, France
Jocelyne Fildard, Grigny, France
Claude Viguié, Bergerac, France
Aline Silvestre, France
Bila Sorj, Rio De Janeiro, Brazil
Nathalie Adato Paris, France
Anaïs Becquelin, France
Ingrid Darroman, Tarbes, France
Fiona Rescan, Toulouse, France
Nicole Johnson, Fez, Morocco.
Françoise Mariotti, Montpellier, France
Gilles D'elia, France
Raphaëlle Legrand, Paris, France
Laurence De Cock, France
Danielle Charest, Paris, France
Rose-Marie Lagrave, Paris, France
Paula Dumont, France
Christèle Rocher, Marseille, France
Jacqueline Julien, Toulouse, France
Patricia Cartier-Millon, France
Anne Chantran, Paris, France
Sophie Chauveau, Paris, France
Julie Poupé, France
Lise Roure,France
Michèle Dayras, France
Sarah Nassera Oussekine, Saint Denis, France
Barbara Wolman, Toulouse, France
Christine Aubrée, France
Francoise Stichelbaut, Bruxelles, Belgique
Therese Gracieuse Gentil, NICE, France
Yvette Claveranne, Paris, France
Nelly Trumel, Paris, France
Jean SYLVESTRE, Paris, France
Isabelle Moulins Marseille, France
Anita Freudiger Marseille, France
Ashinsa Bopearachchi, France
Anne-Elisabeth Moutet, Paris, France
Catherine Caudal, Paris, France
Sofi Plisson, Toulouse, France
Laurence Pujol, Toulouse France
Benloucif-Ouali Taous, Nancy, France
Henriet Genin, France
Zahia Aitbachir, France
Claire Michard, Montrouge, France
Constance Durocher, Québec, Canada
Gisèle Bourret,Montréal (Québec),Canada
Rayhana, Paris, France
Elsa Petit-Hassan, Blois, France
Agnès Montier, Alençon, France
Marie Claude Rousseau, Le Mans, France
Christine Delphy, Paris, France
Frances Auda, Paris, France
Elisabeth Maugars, Saint-Pierre-Des-Corps, France
Et puisque l'argent semble le nerf de la guerre, qu'après les trémolos et la communication infecte sur la prison de Rykers, nous voici maintenant dans la "prison dorée", - sans que qui que ce soit se pose la question de savoir comment vit la plaignante - qui démontre s'il y en avait besoin de la distorsion de moyens employés pour se défendre selon que vous soyez riche ou pauvre, un appel à dons, comme vous pouvez le constater à été initié.
Un système paypal est à l'étude .
Dès qu'il sera en place, vous pouvez compter sur moi pour vous informer.